Guitar Acquisition Syndrome (G.A.S.) is a terrible illness that affects millions of musicians. Here at G.A.S. TV, the guitar lifestyle channel, we understand your struggle with G.A.S. and look forward to sharing our experiences with you as working guitarists.
We are trying to raise awareness of the disease and help G.A.S. victims and their families. Do make sure to show your support for victims of G.A.S. by subscribing to the G.A.S. TV YouTube channel and letting everyone know about it.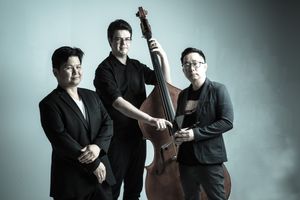 THE FELIX THIANG TRIO
featuring Daniel Beinke (bass) & Jeremy Li (drums)
MENU BEBOP
 Entree
Tenor Madness 
The Trio will be whetting your appetite with this Bebop Blues classic by the great tenor saxophonist, Sonny Rollins. Rollins' 1956 recording on the album of the same name is the only known recording of Rollins and John Coltrane, another great tenor saxophonist, together, Hence the "Tenor Madness". 
Lady Bird 
Written by Tadd Dameron in 1939, it was said to be one of the most performed tunes in modern jazz. It is not often heard anymore so the Trio have decided to do their part and contribute to its ongoing legacy. 
So Danco Samba 
Composed by the great bossa nova legend Antonio Carlos Jobim, the Trio injects a bit of bop into this otherwise laid back tune. 
Have You Met Miss Jones 
Written by Rodgers & Hart, most people have forgotten the musical comedy, "I'd Rather Be Right" (1937), that it was written for. But the song itself has stood the test of time having become a favourite of many bebop musicians. The Trio pays homage to the great bebop guitarist, Jimmy Raney, in their arrangement of this classic. 
PLAT PRINCIPAL
In Walked Bud 
We begin the main course with one of the giants of bebop, the great pianist and composer Thelonious Monk. Written in 1947, this is said to be a homage to Monk's fellow pianist Bud Powell who came to his aid during an altercation with the police gone wrong. 
Bernie's Tune 
Now that our drummer has warmed up, our next course features the drums in an amalgamation of sticks and skin by Jeremy Li in this 1953 tune by Bernie Miller. 
Well You Needn't 
Another Thelonious Monk classic, Monk wrote this in 1944 for jazz singer Charlie Beamon. When Monk told Beamon that he was going to name the tune after him, Beamon replied "Well, you need not", and the rest is history. 
The Days of Wine and Roses 
Written by Henry Mancini (Pink Panther and Peter Gunn) and from the 1962 movie of the same name, this tune is played as a ballad by the trio as a palate cleanser in preparation for our final courses. 
Where's Binky? 
This funky tune was written by Felix Thiang in 2017 in homage to the Trio's bassist, Daniel Beinke. Daniel was late to a jam session leaving Felix and Jeremy to perform as a guitar and drum duo and wondering "Where's Beinke?". Written originally for 7 string guitar and drums, the bass is not allowed to play during the first head of the tune (it even says so on the chart). 
Green Dolphin Street 
Composed in 1947 by Bronislaw Kaper for the film of the same name, bebop musicians will credit Miles Davis with immortalising this tune as a standard in the bop repertoire. The Trio have decided to put a twist on this classic by playing it in an African Nanigo (rhythm) and a waltz. 
Dessert
My Little Suede Shoes 
The first of our sweets, this tune was written by the father of bebop, saxophonist Charlie Parker, around 1951. The light hearted nature of the tune belies the weight that Parker carried into this world in introducing the world to bebop. As we come to the end of our menu, it is only fitting that we choose to pay homage to Parker while shedding light on one of his many juxtapositions. 
Flintstones 
Like hundreds of other tunes, the theme song of the hit cartoon series "The Flintstones" is based off the chord changes to George Gerswhin's "I Got Rhythm", affectionately known by jazz musicians as the "Rhythm Changes". Along with the blues which we started our menu with today, this is probably the other most popular progression in the bop repertoire and we leave you with a melody we hope will linger on your musical taste buds for the remainder of the weekend. 
Thank you for lending us your ears and sharing in this musical gastronomic feast. Be sure to follow and keep in touch with us on YouTube and social media.